On Thursday and Friday I watched Toy Story, Toy Story 2 and Toy Story 3 for the first time. I liked them all and I cried four times during Toy Story 3. I didn't think these films were that good - but they are. And I'm glad I finally, at the age of 24, decided to see them.
I read the Notebook. I didn't particularly like the book. I didn't like the narration style. I thought there was way too much focus on the two of them and how much in love they are. And there were too many mentions of what they were wearing and how handsome they looked. I found the book kind of unsatisfying, although I did cry at the end. I knew there's a popular film adaptation (it's mentioned in Teen Wolf - Lydia forces Jackson to watch it with her). I saw ten minutes, then I couldn't stand it any longer. I really didn't like the film.

I'm currently reading The Return of the Native by Thomas Hardy.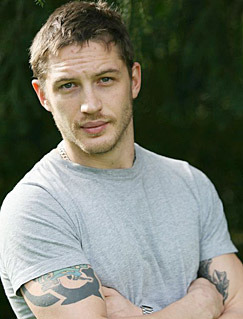 Sorry, I got distracted. Not Tom Hardy, obviously. The Return of the Native was published in 1878 and the entire first chapter is about the setting of the plot: a heath. It goes on and on about the Egdon Heath, with lots of unfamiliar vocabulary; not a single mention of the characters.
Then, the second chapter. Heading: Humanity Appears upon the Scene, Hand in Hand with Trouble. ... Wow. That's powerful.
More parts I liked:
To see her hair was to fancy that a whole winter did not contain darkness enough to form its shadow: it closed over her forehead like nightfall extinguishing the western glow.
Those who are found where there is said to be nobody
He had reached the stage in a young man's life when the grimness of the general human situation first becomes clear; and the realisation of this causes ambition to halt awhile. In France it is not uncustomary to commit suicide at this stage; in England we do much better, or much worse, as the case may be.
[
Spoiler for Teen Wolf and Grey's Anatomy
]
Now on to Teen Wolf. Tonight's episode is the one that sees one hero die. It better not be Stiles or Derek. I hope it's Isaac or Aiden, but I'm afraid it will be Derek.
Stiles is my favourite character. He has been my favourite character since before I even started watching the series.
Season 3b focusses on him, or rather, on the Nogitsune that uses Stiles as host. So Stiles gets a lot of attention. Do I like it? No. Not at all. I really didn't like season 3b, because that's not Stiles. Because of the death threat hanging over everyone since Jeff Davis told us that one hero will die. Because of Malia. Because there was no Sterek for ten episodes. And even if they met in the last episode, it was the Nogitsune that met Derek. That hurt Derek.
If they kill off Stiles or Derek, that's it. If they kill someone off, only to revive them in the last episode - now that's just ridiculous.


Grey's Anatomy. Let me just post a photo that says it all:
Football-wise, I'm pretty content.
Steven Gerrard scored two penalties against MU; MU 0 - 3 Liverpool.
I would really like to see both Arsenal and Liverpool win the League. Hmm.
Btw, I did a picspam for David Luiz/Eden Hazard.

algunos enlaces
The Johnlock conspiracy
Tag der Frau / Sueños de madres e hijas
Die Werkstatt, das unentdeckte Land
Puns
163 questions to write or talk about
La Antigua (Guatemala) is happy
Valencia is happy

Alexander Rybak's Eurovision medley
Yeah, no
Being affirmative while at the same time covering the opposite possibility. Particularly favoured by sportspeople during game time when it appears as though their team is going to score a point
(in
unwords.com)
Citation: Yeah, no, he's terrible
The three PL matches I watched today all went great: Chelsea won 0-3 (Torres scored a goal), Liverpool won 2-0 (Agger scored and Stevie came on after his injury) and Arsenal won 2-0 (Bendtner scored in minute 88, Walcott scored two minutes later).
In Thor: The Dark World, Dr. Foster slaps Thor for not calling -- "I saw you on TV. You were in New York!" (in "The Avengers")

Dr Hannah Fry, University College London: My number of the year is 51 and this comes from the UK's 2011 Census, from which a lot of data has been released this year.
One astonishing statistic caught my attention - apparently 51 people in the UK were born in Antarctica... despite there only being 11 people ever recorded as being born there. This probably suggests that there are 51 people in the UK who have a particular sense of humour.
Looking at some of the other numbers in the 2001 Census, 390,127 people put down their religion as Jedi Knight.
Arsenal fancy dress party
A Cat's Guide To Taking Care Of Your Human
Shiba Inu
If the Chelsea players were home for Christmas
Both Derek and Stiles want sleep for Christmas
39 Test Answers That Are 100% Wrong But Totally Genius At The Same Time
Mit @Stern831 zur #Anbetung_des_Jesuskinds
Meet Brandon Stanton, the Photographer Behind Humans of New York
YouTube Rewind: What Does 2013 Say?
Keine Chance auf zügigen Abschluss
David apparently married - not Rose though
Teen Wolf Slash Fiction about Stiles and Derek:
a Result of Queer-Reading and Dissatisfaction and an Attempt at Reworking the Show
I got 1.3.
Life is good.
In more university-related news:
Learning for the state exam for school pedagogy? Ugh.
I squeezed my classes for this semester into two days. 2. Two days!! Monday 10 am - 5.15 pm and Wednesday 8.15 am - 5.15 pm. Why? Firstly, because I can. Secondly because it's the winter semester and the fewer days I have to fume at the lateness of trains the better. And thirdly so I can spend more time at home learning for said state exam. So far this has not worked. Getting up at 9 am? Yeah, no.
I finally watched City of Bones with my sister! It was not good; I heard the books are better though. We were making fun of the film the whole time. Let's not talk about how illogic some things were. And it's just so predictable! We have seen everything happen in other films.
Almost everything, that is. There was
this one scene
("the hot one") and then Clary said that Alec was in love with Jase (we were not sure at that time who Jase though) and then
the warlock actually came to heal Alec
! What!? So of course after the film the first thing I did was check
whether Valentine could actually be Jase's dad (obviously he's not because Jase's hair colour does not match his "parents'"! And I found out that Valentine's actor is only eleven years older than Jase's so no way), whether Simon was the guy from Misfits (he is),
whether there was anything to know about Magnus and Alec. And boy was I happy
what I found
. It's like fanfic (and nice style), only it's written by the author herself. Malec is real (or going to be)! I'm so happy.
Right now fan fiction is still the
cultural equivalent of dark matter
: it's largely invisible to the mainstream, but at the same time, it's unbelievably massive.
The Premier League table right now:
1 Arsenal (22)
2 Chelsea (20)
3 Liverpool (20)
Macklemore & Ryan Lewis - Irish Celebration
(Ryan Lewis is not an Irishman though)
Macklemore & Ryan Lewis - Same love
This cutie appears in both video. His name is Shelton Harris. And h's not Irish either but that's okay.
Have some links:
Lily Myers: Shrinking women
Lessons from living in London
Las palabras más autóctonas
de los países hispanohablantes
Real jobs of cosplayers
Project:Library
How to make tiny bows
Dalí y Lorca, cartas de seducción
The OTW's 2012 Community Survey report
Un día en la vida de Alemania
Forrados anónimos en Youtube
For my paper on Pepita Jiménez I got the grade 1.0 (the second-best grade) and for my paper on
assignment on Sterek slash fan fiction
; btw, if anyone of you writes fan fiction about that pairing and would like to tell me why they do it - feel free and your thoughts might be included in my paper : ). This means feels. Like, I'm starting to feel bad for wanting Sterek happen for the wrong reasons. It's all very complicated. Anyway. So I love fan fiction and E/R is something I like to read. Last time I read fan fiction about them was last night.
E/R, you ask?
Enjolras/Graintaire from Les Misérables. I only watched the film (I went to the cinema twice and that is something I have so far only done for one other film:
Das fliegende Klassenzimmer
), haven't read the book yet, but I highly recommend the film.
The blond guy is Enjolras, also called Apollo. The other guy, who is
very much my type
, is Grantaire. Depending on conventions regarding name usage, the pairing is Enjolras/Grantaire (leader/not the leader) or Grantaire/Enjolras (lover/being loved).
Grantaire is played by George Blagden.
George Blagden ships E/R.
He also uploaded the next photo after he had uploaded a photo with just the R.
#abittoofarperhaps
was the tag he used. He tweeted that on August 15. The film was in cinemas at the start of the year.
Point me to another actor who ships his own ship. Apart from Misha Collins.
But it comes even better. On 31 August, he uploaded
a video with the title ?
on his Youtube channel.
[
Spoiler for Les Misérables
]
It's a cover of

Death Cab for Cutie's I Will Follow You into the Dark

and it shows that he can sing. But that's not the point.
So I was listening and it goes



Love of mine, some day you will die

But I'll be close behind

I'll follow you into the dark

If there's no one beside you

when your soul embarks

then I'll follow you into the dark


and I was thinking "that actually fits E/R, cute, I wonder if he knows that." He does. Because he rewrote the lyrics of the second verse.


In revolutionary school as vicious as Musain rule

I got my feelings bruised

by the leader in red

And I propped the bar

as he told me, "R,

you're good for nothing, fool."

And I heard every word that he said…

*dead*
I'm very invested in fandom right now (see my
Introduction
vlog
Talking to the camera like it's a person
Typical vlog
You: "Hello world! How's your day today?"
Camera:......
If you're not familiar with vlogs: watch the excellent documentary videos on
this channel
with an explanation of what vlogs and vloggers are - it features a lot of vloggers from my list, too. I can only recommend taking a look at some of them. Have a
sketch
while you're at it: Why you can't dislike Youtube videos.
I'll give you some information on the vlogs I follow,
the channel description
,
my favourite
video
from the channel, fun facts.
(
The list of vlogs
Collapse
)
Statistics
There are 31 vlogs on that list:
- 19 are by British vloggers
- 18 are by male vloggers
- 31 are by vloggers speaking English
Superlatives:
- the oldest vlogger: vlogbrother John Green
- the youngest vloggers: itsamemyleo and BertiebertG (<15)
- most videos: vlogbrothers with 1037 videos
- most subscribers:
charlieissocoollike with 1.813.630 subscribers, followed by
TomSka with 1.223.254 subscribers
and by communitychannel with
1.186.880 subscribers
- most channel views: communitychannel with
454.186.424 views, followed by TomSka with
317.903.792, vlogbrothers with
281.581.101 and charlieissocoollike with
271.700.624
Are there any vlogs you can recommend?
Dislikes kill. Cats.
Feel free to point out any mistakes (regarding, e.g., age of the vlogger or the best video of the channel).
I'm following several vlogs on Youtube.
Los Miserables, because I saw the film in Spanish. I'm in Madrid at the moment.

I've got the CDs from the 25th anniversary concert in the Royal Albert Hall and the music is fantastic. Absolutely fantastic.

Having listened to the music I knew the story more or less. What I didn't know for example was that Éponine was the inkeepers' daugher, what inkeepers were, that Fantine sold her hair or became a prostitue or that Jean Valjean was the mayor.

The cast
yay: Amanda Seyfried as Cosette (innocence), Russell Crowe as Javert (short breath) and Samantha Barks as Éponine
hmm: Hugh Jackman as Jean Valjean (I was very impressed by his acting and singing at the monastery in the beginning), Eddie Redmayne as Marius

I cried at the end when Jean Valjean died (and I wasn't the only one).

The next morning, when the Friends of the ABC die - wow. Shocking. Emotional. Especially when Enjolras and Grantaire die together.
Hadley Fraser as the army officer who asks them to give up (and you can see he really wants it) impressed me, too.
Yes,
Current Mood:

blah
- my brother got me and my sister a ticket for The Hobbit (I had thought about getting him the same!) and he paid for cola and popcorn when we went to the cinema with our father
- my sister: a CD with a music mix that fits my music taste (Lana del Rey, Mika...)
- my brother's girlfriend: an enormous Nivea box with Nivea creme, shower gel and body lotion
- my grandmother: money and chocolate
- my great aunt: money and a smartphone case (unfortunately I haven't got a smartphone)
- the mother of my private student (English, Latin): a 15 € Amazon gift card (their message got lost so I only got the gift card saying "Thank you" but without any name - took me a while to figure out from who it was (I guessed my sister or my aunt)
- my Valencian language tandem partner: a scrunchy with a butterfly
- my parents: they had got me a laptop for my birthday and Christmas; a Spanish calendar for 2013, a cook book with recipes that are quickly done; a book of pictures from Spain; the film "The Punch Bowl" with the message "a must for all future teachers"; a lot of money and sweets
This year we decorated the Christmas tree according to my mother's wishes: colourful.
And to quote an Italian Youtube user:
You mustn't forget to vote america, and you know why?
Because here in my lovely country Italy (where we could have LOADS of news about ourselves) and i guess even in other countries, the main news that's on TV is Your Elections. They even made a special channel on Sky where they have 24/7 news about it.
Your president is also kinda our president, because your country is so powaful. We didn't even get to vote for our latest premier. You have power in your hands, don't waste it. Kbye.